Published at Second Wave Media
While Dearborn high school and college preparatory students Sukayna Hamka, Mohammed Alzergani, and Hadi Nasserdine knew they were excited about earth science, they didn't know much about environmental health or justice.
But thanks to attending the Environmental Health Research-to-Action (EHRA) Academy this summer, they do now.
The three students were among 20 who attended the free, six-day EHRA Academy, developed by two University of Michigan–Dearborn faculty, Drs. Natalie Sampson and Carmel Price. The program was funded through a university grant, in collaboration with the Healthy Dearborn initiative.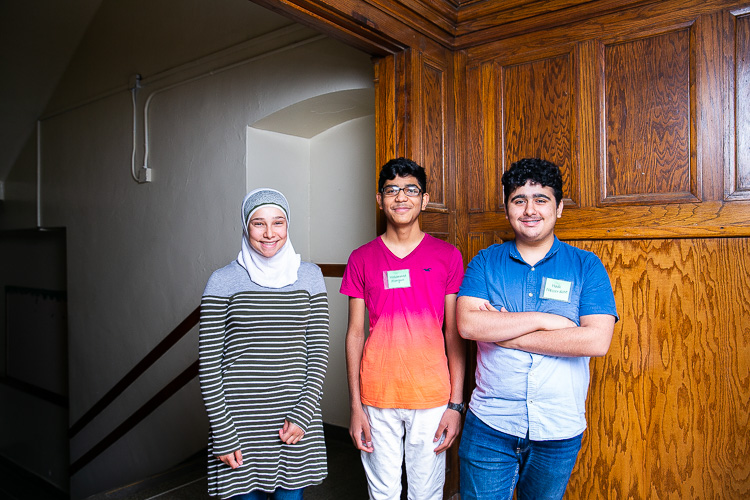 Sukayna Hamka, Mohammed Alzergani, and Hadi Nasserdine. Photo by David Lewinski.
Held in an old public school building located along a heavily-trafficked truck route on Lonyo Street in Detroit, the free program featured presentations by university faculty and community activists. The academy covered the basics of environmental health and justice, air pollution and public policy, environmental health literacy and risk communication, advocacy, and civic science.
The students also participated in a demonstration of hand-held air monitoring equipment. Discussions are now underway to loan those monitors to community residents through the Dearborn library system.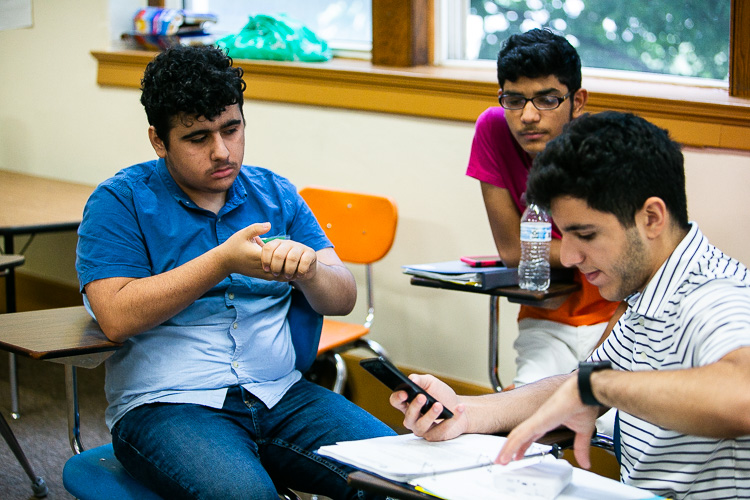 Students explore handheld air quality monitors. Photo by David Lewinski.
Alwishah, a UM-D public health student who lives in Southeast Dearborn, also helped develop the project. While taking a course in Environmental Health taught by Dr. Sampson, Alwishah recognized her neighborhood in one of the presentation slides, which is located near an AK Steel plant. The course oriented her to the connection between air pollution and environmental health, which prompted her to attend a public hearing on an industrial permit request by Dearborn Industrial Generation earlier this year.
"All the things I learned in school about permits and regulations were relevant to my community and playing out in real time," she says. "In fact, I submitted a written public comment at a hearing with the Michigan Department of Environmental Quality and since then I have been actively involved in learning and advocating for a better air quality in Southeast Dearborn."
Motivating younger students has also been a goal of hers, which was actualized through the ERHA Academy.
"We have students with general knowledge of science, but not necessarily environmental justice," says Alwishah. "The program helped motivate students to become involved in environmental justice activities and consider professional career opportunities in the field. Now I know that there are many things that I can do, and youth can do it too."
Hadi Nasserdine's passion for social activism directed him to the ERHA Academy. "My community has suffered enough, the youth has suffered enough, the elderly have suffered enough," he says.
The son of Lebanese immigrants, Nasserdine wants to "take a stand for what is right."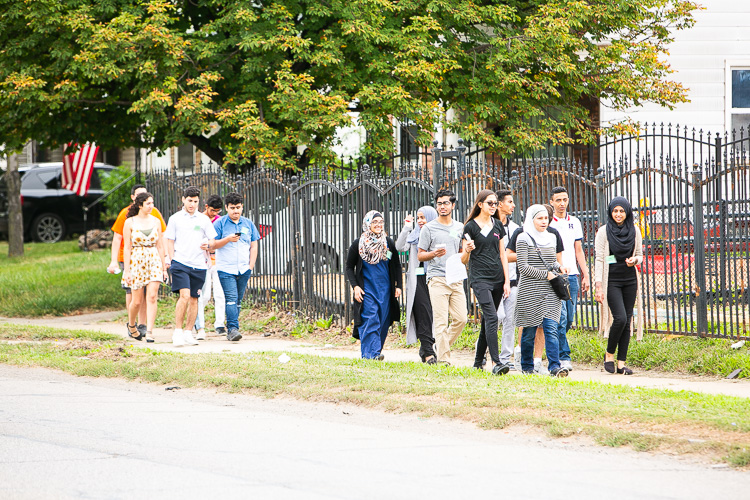 Students test handheld air quality monitors. Photo by David Lewinski.
"I want to fight for my community. I want to be a part of something bigger. This program gave me a platform to stand right beside my fellow community activists" to advocate for environmental justice," he says, "I want to be a civic leader and expand this mentality to the youth and for future generations of many struggling communities."
Hamka says she doesn't have asthma but notices differences in air quality, particularly when cycling.
"Sometimes I notice that my breathing is different. I wonder what made it this way. I have an inhaler just in case… Some days I'll use my inhaler, some days I won't.
Hamka says she was a little skeptical coming into the workshop. However, she learned that "environmental health is not just about science. There were law and engineering, which I'm very interested in."
After hearing a presentation by Nick Leonard, interim executive director of the Great Lakes Environmental Law Center, she says she is now very interested in law.
Mouhanad Alzergani knew about problems with his community's environment, but "didn't know what environmental justice meant. He says he likes science because "it's really clear-cut. Everything follows rules." But environmental justice work, he realized, is not so certain.
"For example, what is considered 'safe' levels of pollutants?"
But after attending the EHRA Academy, Alzergani says he wants to become more active in environmental health advocacy.
"I'm considering how some people can have an impact. Just knowing what we're learning isn't going to have the impact that we want. We have to go out and do it."
This article is part of the Culture of Health series about programs that foster a healthy, equitable culture in Wayne County. It is made possible with funding from Wayne County. Read more of the series here.